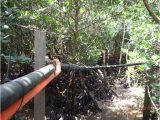 Phase 3 of the study of the purifying capacity of the Malamani mangrove in Mayotte
Introduction
Treating domestic wastewater is a worldwide challenge. With the huge increase in world population, our need for water is constantly growing, leading to the mass production of wastewater. This issue results in a number of difficulties relating to sanitary risks and to the pollution of natural environments (M. Herteman, 2010, doctoral thesis from the University of Toulouse).
Mayotte, the 101st French department, located in the Mozambique Channel to the north-east of Madagascar, is in no way left out of this issue. Mayotte is also currently facing a demographic boom, and is suffering its consequences: socio-economic, technical and environmental difficulties. Within this framework, Mayotte's Intercommunal Water and Purification Syndicate started searching for domestic wastewater treatment solutions, including bioremediation. Jointly with EcoLab-CNRS since 2006, a pilot purification project – based on the purifying capacity of Mayotte's coastal mangroves – has been implemented: the goal is to assess the mangrove's bioremediation capacity when filtering domestic pre-treated wastewater, and how it could contribute to developing this ecosystem of high ecological and heritage value, whilst considering that it is also subject to high anthropogenic pressure.
The first phase was implemented between 2006 and 2010, and the conclusions proved that mangroves had real self-purification capacities (M. Herteman, 2010), but that many questions remained to be answered, namely regarding the effect of nitrogen- and phosphorus-based polluting agents on the future of crab populations. The research phase required in-depth and long-term work, to be able to assess the impact on the ecosystem and in upcoming experiments. Within this framework, phase 2 was implemented between 2011 and 2013, funded by the Ministry for Ecology. Results showed that mangroves would not able to absorb all nutrients (nitrogen and phosphorus) in the long-term, meaning that a change in the purification process was required.
We are currently in phase 3 of the project, the purpose of which is to define the rejection conditions into the mangroves of effluents that were pre-treated by purification plants, and to stipulate the various monitoring processes that need to be implemented for the mangrove to become a potential receiving environment, just like rivers or lagoons are. The focus is also set on characterizing microbial communities (diversity, structure, role in the nitrogen cycle), and on analyzing the sediments' meiofauna – which is a potential bio-indicator of the environment's exposure to wastewater. This last phase, funded by ONEMA, began in January 2014 and is being conducted in partnership with SIEAM (site implementation and maintenance), the EcoLab laboratory (CNRS Toulouse – National Scientific Research Center) in charge of designing the experiments and research section, the Mayotte University Center (crab eco-physiology) and the Mayotte Marine Park (co-funding).
Treatment devices
The devices are made up of a wastewater collection network, a primary treatment unit (lift station, collection tank, decanter-digester and buffer tank) and a spreader system (the pre-treated wastewater is rejected into experimental sections in a controlled manner, and is monitored in four different experimental tanks (each measuring 147.6 x 49.2 ft.) with 2 different plant bases (Rhizophora mucronata and Ceriops tagal). Two sections receive wastewater and the two others are sample tanks. Rejections are slowly sprinkled through 3 rows of pipes, pierced every 6.5 feet, one hour before low tide, every other tide (M. Herteman, 2010).
Observation and measurement devices
All the mangrove's "functional compartments" are considered: the plant (diversity, structure, function), the sediment, the water, the fauna (crabs, meiofauna) and microbial communities.
In each section, quadrats for analyzing plant structure, forest litter collectors (for monitoring productivity), a network of piezometers (for monitoring salt levels, water dynamics and physico-chemistry) and permanent quadrats for monitoring crab populations (diversity, density) were installed. Measurements are regularly taken on-site for monitoring, sampling and analysis purposes.
Expected results
– Defining the mangrove's resilience after having been subjected for several years to domestic wastewater rejections (crab populations, plants, accumulation and assimilation of nitrogen and phosphorus, etc.),
– Defining which bio-markers can be used to monitor Mayotte's mangroves, subjected to anthropogenic pressure, and foreseeing possible tolerance thresholds,
– Support to the leading collective wastewater purification scheme, by offering an operational hand-over of the experience gained in Malamani to other sites, after assessment of their potential and after having defined the monitoring conditions (waste water treatment plant processes and productivity to be complied with, etc.),
– Achieving in-depth knowledge of mangroves and their purification capacity, namely by analyzing:
The plants' dynamics and functioning (growth, photosynthetic efficiency, productivity),
The absorption potential of organic polluting agents,
Nitrogen and phosphorus cycles in the mangroves,
Benthic population features (micro-fauna and meiofauna),
Crab eco-toxicology.
Phase 3 calendar:
January 2014 to December 31, 2016
Partners:
– SIEAM (Mayotte's Intercommunal Water and Purification Syndicate): project leader – owner of all installations,
– ONEMA (French National Agency for Water and Aquatic Environments): main financing body,
– EcoLab-CNRS/University of Toulouse: mangrove specialist, designer of the pilot site and all experiments, in charge of research,
– Mayotte Marine Park: research and pollutant analysis partner,
– University of Mayotte: research partner specialized in crab eco-toxicology,
– Conservatoire du littoral: owner of the mangrove.
Contacts :
François FROMARD (francois.fromard@univ-tlse3.fr)
Christophe RIEGEL (christophe.riegel@sieam.fr)
Kissimati ABDALLAH (kissimati.abdallah@sieam.fr)